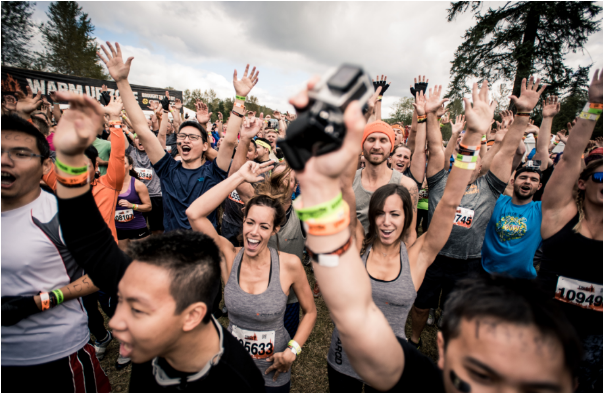 Didn't think Tough Mudder was a spectator sport? Think again. Attending a Tough Mudder will leave you with a lasting memory, even if you don't get dirty in the process. Tough Mudder spectators are welcome to soak in the on course energy—as Mudder athletes conquer obstacles—and participate in all of the on-site activities available in the Mudder Village Festival.
TOUGH MUDDER SPECTATOR TIPS
If you're planning to cheer on your team from the sidelines, check out these Tough Mudder spectator tips first in order to make it through event day from the other side of the ropes.
CHECK THE MAP
We'll have Google Maps set up with the course layout, spectator route, obstacles, and—maybe most important—the Mudder Village Festival.
KNOW BEFORE YOU GO
Pick a few obstacles to meet your team at for prime photo-taking opportunities. The facial expressions you'll catch at Mud Mile, Arctic Enema, Augustus Gloop 2.0, Everest, and Electroshock Therapy are ones you'll never want to forget.
EXPLORE MUDDER VILLAGE FESTIVAL
Did we mention how epic the Mudder Village Festival is going to be this year? From mouthwatering local eats and frosty cold beer (a freebie is included with every spectator ticket) to killer live entertainment, lawn games, and awesome giveaways, you may be tempted to skip the "spectator" part and just hang out.
TOUGH MUDDER 5K, TOUGH MUDDER CLASSIC, TOUGHER MUDDER, AND MINI MUDDER
Running a Tough Mudder Classic could take a team upwards of 3 hours to complete. Wear comfortable shoes that can withstand a bit of mud, pack a few snacks, and get ready to experience something you've never seen before.
TOUGHEST MUDDER
Toughest Mudder is a 12-hour race through the night, from 8:00 pm Saturday to 8:00 am Sunday. You're not just a spectator at this event, you're officially a pit crew member. This means in addition to what you would bring to a normal Tough Mudder, you need to be ready to motivate your athlete through one of the hardest experiences of their lives. Pack appropriately for overnight conditions. Also snacks. This is your test run for the ultimate pit crew experience: World's Toughest Mudder.
WORLD'S TOUGHEST MUDDER
World's Toughest Mudder is the most extreme, insane, pulse-pounding, heart-stopping 24-hour obstacle course challenge on the planet. For this event, you're either a committed pit crew member, or a day-time spectator.
Spectator: A day-time spectator at World's Toughest Mudder doesn't need any more preparation than a normal Tough Mudder spectator. There are plenty of options for food and drinks in the Mudder Village Festival. World's Toughest is a 5-mile loop, so all of the obstacles are within a reasonable distance from the Mudder Village Festival.
Pit Crew: As a member of the carefully selected (up to) four-person pit crew for your World's Toughest Mudder athlete, you're responsible for a slew of things: constant motivation, fueling your runner with plenty of snacks and drinks, stretching them and keeping them warm in between laps, and really anything else they need. Remember, they're the ones running for 24 hours straight after all…
https://toughmudder.mt/wp-content/uploads/2020/08/Charity-Blog-3_1.png
393
603
[email protected]
https://toughmudder.mt/wp-content/uploads/2022/05/TMM_LOGO_BETCLIC_RGB_SIDEblack.png
[email protected]
2020-08-22 09:00:04
2020-08-12 13:23:58
TIPS FOR TOUGH MUDDER SPECTATORS